Description
The 12V 200A Renogy Deep Cycle Pure GEL battery is ideal for standby or frequent cyclic discharge applications under extreme environments. The 12V 200Ah Renogy Deep Cycle Pure GEL Battery gives you maximum storage for any solar setup and can deliver 1000 cycles at 50% DOD. Make the most of your solar system with a 12V 200Ah Renogy Deep Cycle Pure GEL Battery!
Should you need to connect several batteries in series/parallel to build a battery bank, Renogy offers the Battery Inverconnect Cables in different lengths for your convenience.
Note: We recommend only using consistent battery types. DO NOT mix Hybrid GEL and Pure GEL batteries together as it will reduce overall performance and may cause damage to the battery bank.
If you have any questions regarding this product, please call us at 1 (909) 287-7111 or email sales@renogy.com.
Package Includes
Renogy Deep Cycle Pure GEL Battery 12V 200Ah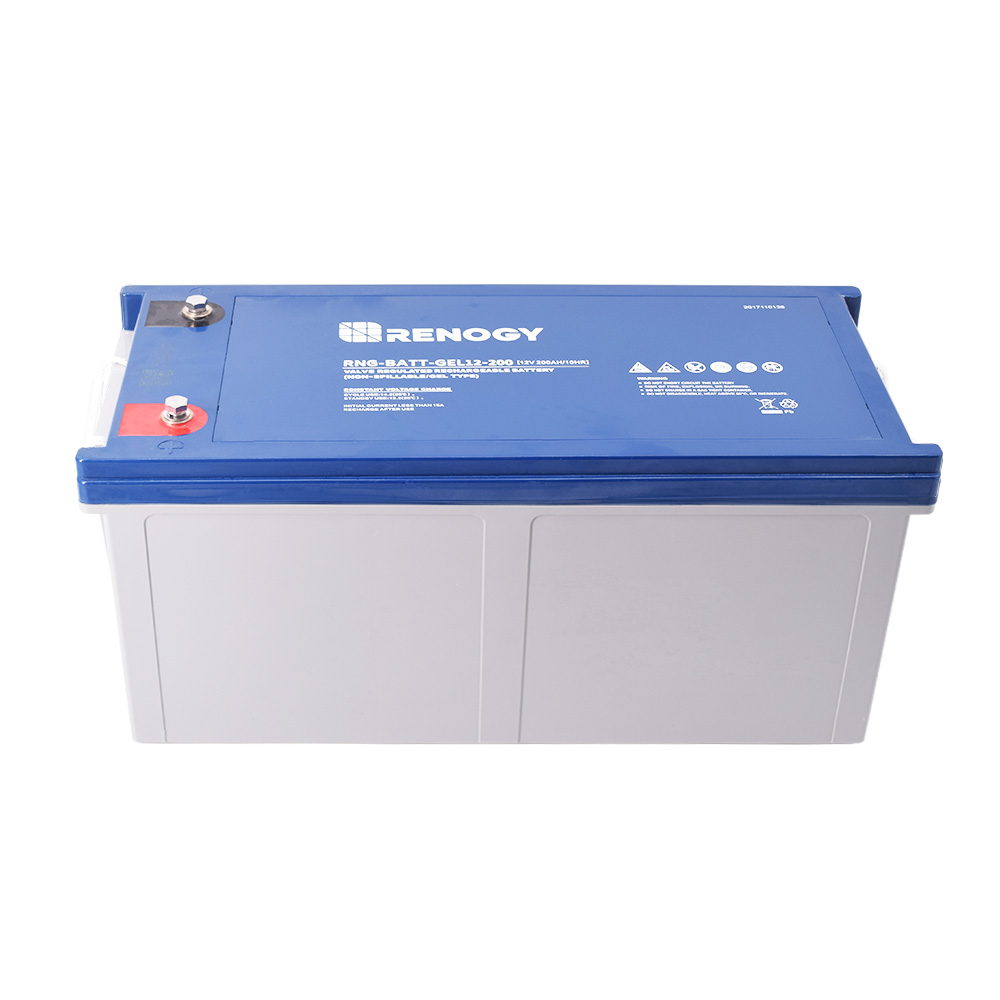 1 x
Renogy Deep Cycle Pure GEL Battery 12V 200Ah
Nominal Voltage: 12V
Internal Resistance: 5mΩ
Capacity (77°F/25°C): 200Ah (20 Hour Rate to 10.8V)
Self Discharge (77°F/25°C):

≤

2% per month
Cycle Use Voltage (77°F/25°C): 14.2V (-24mV/°C)
Float Use Voltage (77°F/25°C): 13.5V (-18mV/°C)
Max Charge Current: 40A
Operating Temperature: -25°C~45°C

Shelf Life: 9 months at 25°C

Material: A.B.S. Containers and Covers

Dimension: 20.6 X 9.5 X 8.7 In. (523 X 241 X221mm)

Weight: Approx. 128 lbs (58kg)

Warranty Information
| | |
| --- | --- |
| Accessories | 3-year material warranty |

Certification