Description
Renogy's 12V deep cycle AGM batteries were designed for multiple purpose, especially for low wattage devices which need to operate for long periods of time. Leak-proof, spill-proof and ultimately maintenance free, Renogy's AGM line is the ideal candidate for a battery meeting high quality performance. Whether it's for daily use or backup power, the Renogy AGM battery is right for you.
If a power system requires the connection of several batteries in series/parallel to build a battery bank, please consider purchasing Renogy Battery Interconnect Cables, available in different lengths.
If you have any questions regarding this product, please call us at 1 (909)287-7111 or email sales@renogy.com.
Package Includes
RNG Rechargeable Sealed Lead Acid Battery 12V 7Ah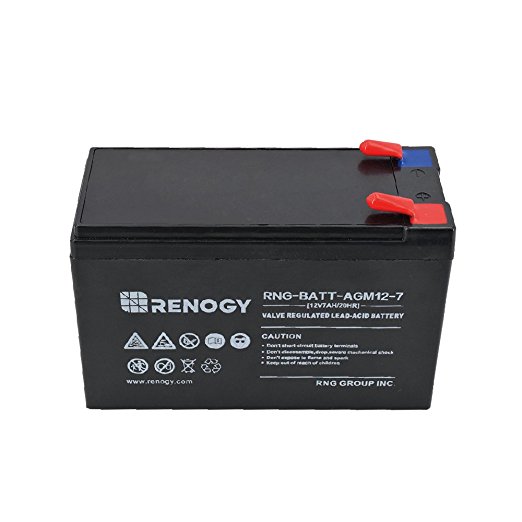 1 x
| Renogy Rechargeable Sealed Lead Acid Battery 12V 7Ah | |
| --- | --- |
| Capacity: 7Ah@20hr-rate (0.350A to 10.8V) | Weight: Approx. 4.41 lbs |
| Internal Resistance: 280 hm | Self Discharge: ≤3% per month (20°C) |
| Design Life: 5 years | Operating Temperature Range:-15°C to 50°C |
| Max. Discharger Current: 105A(S) | Max. Charger Current: 2.8A (S) |
| Dimension:5.95x2.60x3.86 inches | Material: A.B.S. Containers and Covers |
Warranty Information
| | |
| --- | --- |
| Accessories | 2-year material warranty |